Ordering a new security door for your building is not always an easy task, as the purchase involves several different aspects. Below we list some of the most important things to consider and the different choices you face when ordering. We hope this guide will simplify some of the concepts - to make you, the customer, a better buyer.
What is a security door?
It is an extra reinforced door with added elements that protect against burglary, gunshots, explosion and fire, for example. The doors are tested against attacks and are equipped with different fittings and materials depending on the protection class. A security door is made of thick steel and is designed to prevent, prolong or stop attempted attacks. In combination with security devices such as locks, surveillance and alarms, the security door in many cases provides an almost impenetrable passage for unauthorised persons.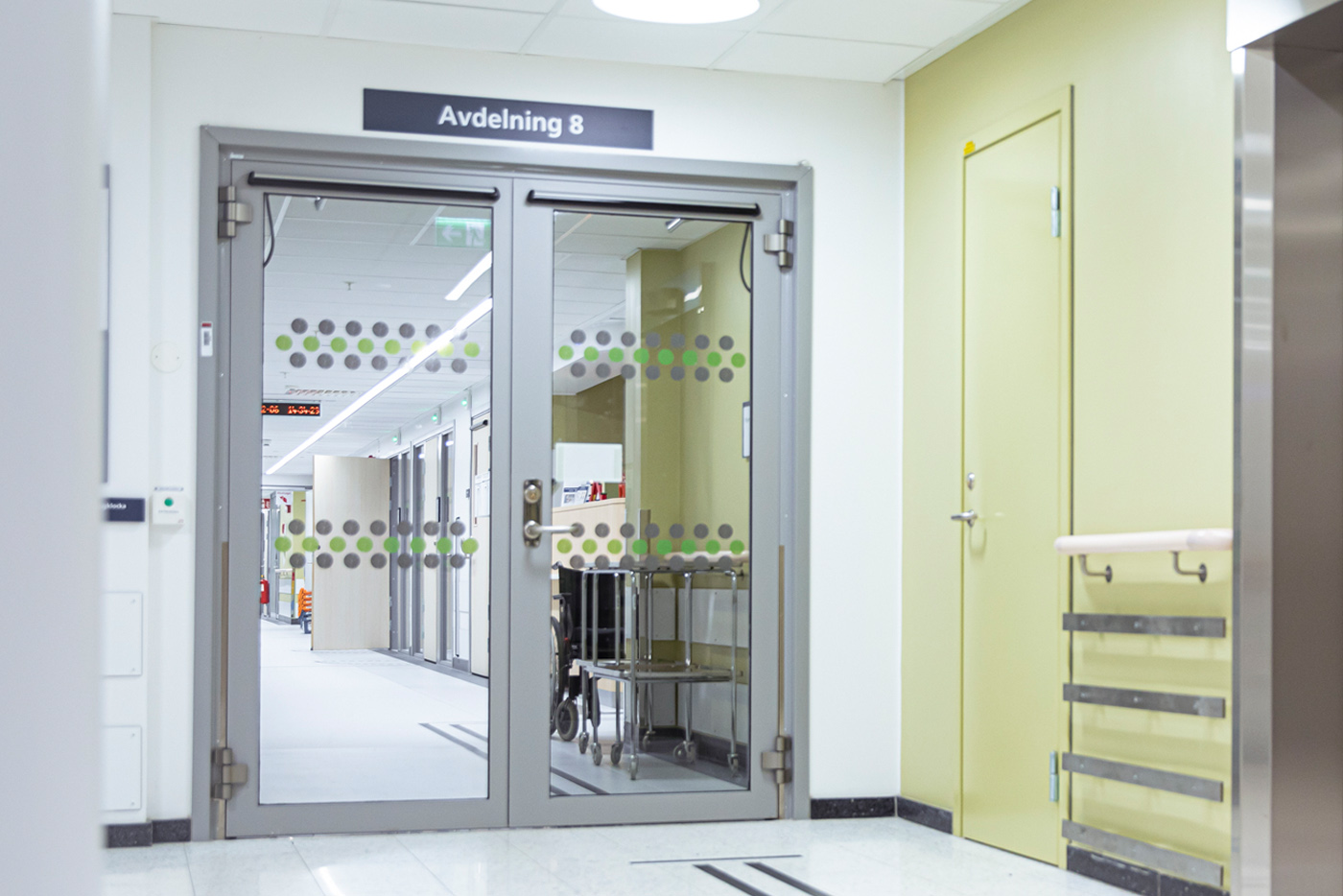 Smooth door or steel glazing?
A smooth door without a glass opening is a more cost-effective solution and is used to advantage in garages, basements and interior spaces such as shelters and the like. A plain door is preferable if maximum security is required. A steel glazed section is a door where appearance matters and is often used at entrances and as an internal passage between different departments. In addition, in many operations it is necessary to be able to see through the door. The big question is whether the door is as safe despite the glass? The simple answer is usually yes. We can build our steel glass doors up to safety class RC5, bullet resistance BR6NS/FB7NS and explosion class EXR5NS with glass. The glass does not give the thief any noticeable advantage over a plain door.
A steel glazed section is therefore a more exclusive product and is usually installed in central locations, such as entrances, where the aesthetic aspect comes into play. The doors are often equipped with extra reinforced locks, alarms and cameras.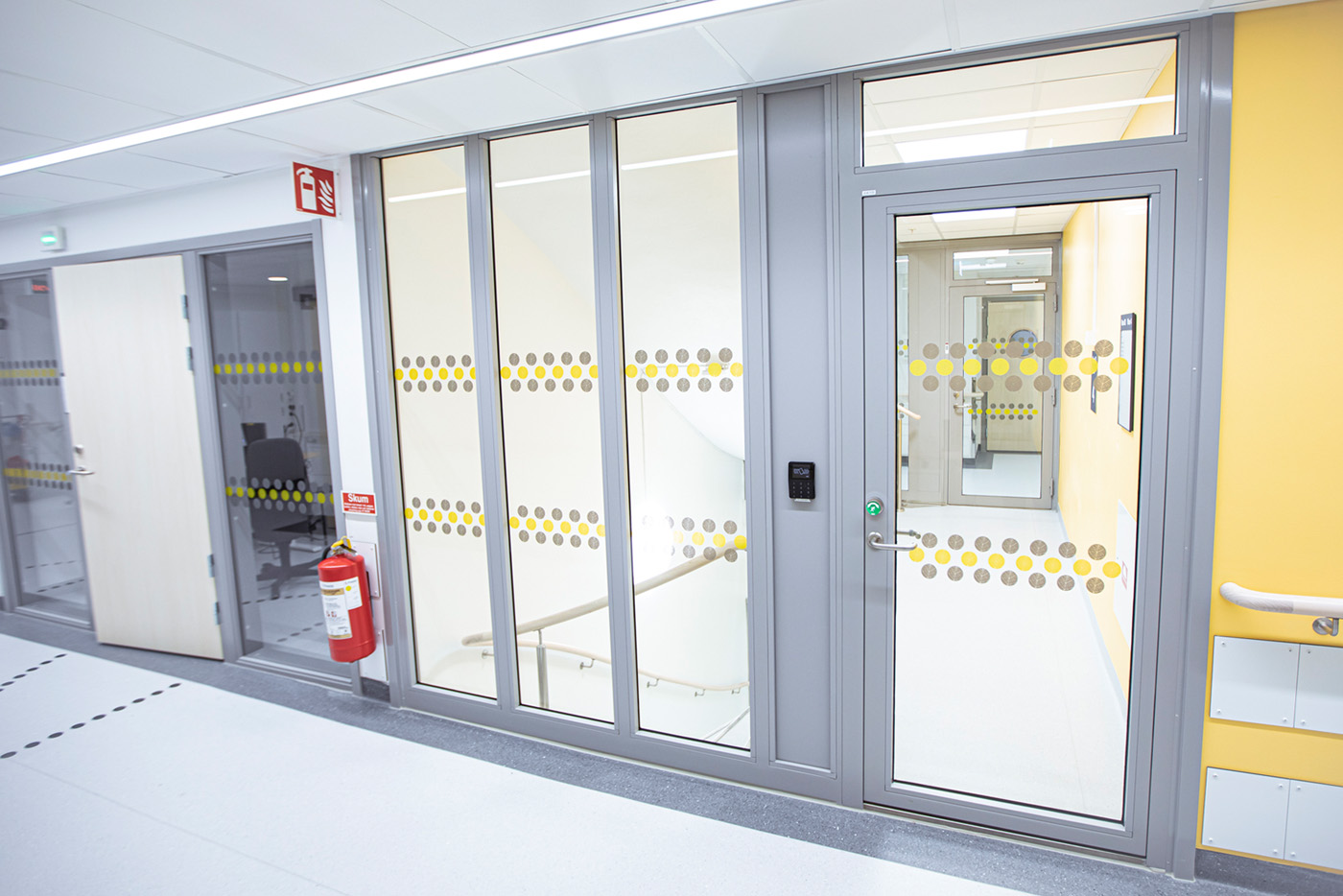 Code lock, key fob or standard manual three-point lock?
If the door is located at a passage that is well used and at the same time protects an internal part of the building, it may be wise to invest in an electronic lock with a code lock and key fob. An electronic solution can be linked to the alarm system, increasing security in the event of a break-in. Security guards and the police can be notified immediately of an attack, and when the alarm goes off, the thief is often deterred. An electronically linked system also strengthens evidence in case burglary becomes an insurance case. Time of attack and any surveillance footage is logged in the system and can be highlighted to obtain compensation for damages.
Threshold?
When installing a security door, a height difference of 1-2 cm is usually created, making it difficult for wheelchair users or rolling units in particular to pass smoothly through the door. It is recommended to install a threshold in conjunction with the door installation, if you anticipate that the door will be used frequently as a passageway for various purposes, such as wheeled ones. MaxiDoor can provide complete solutions such as ramps, door openers and custom-made thresholds for optimal user-friendliness.

Regular handle or sliding handle?
If you are using the door for a high-traffic purpose, a sliding handle is recommended, as it is easier to use and does not cause as much wear as a standard door handle. A sliding handle is available in many different designs and finishes and can be a better option from an aesthetic point of view.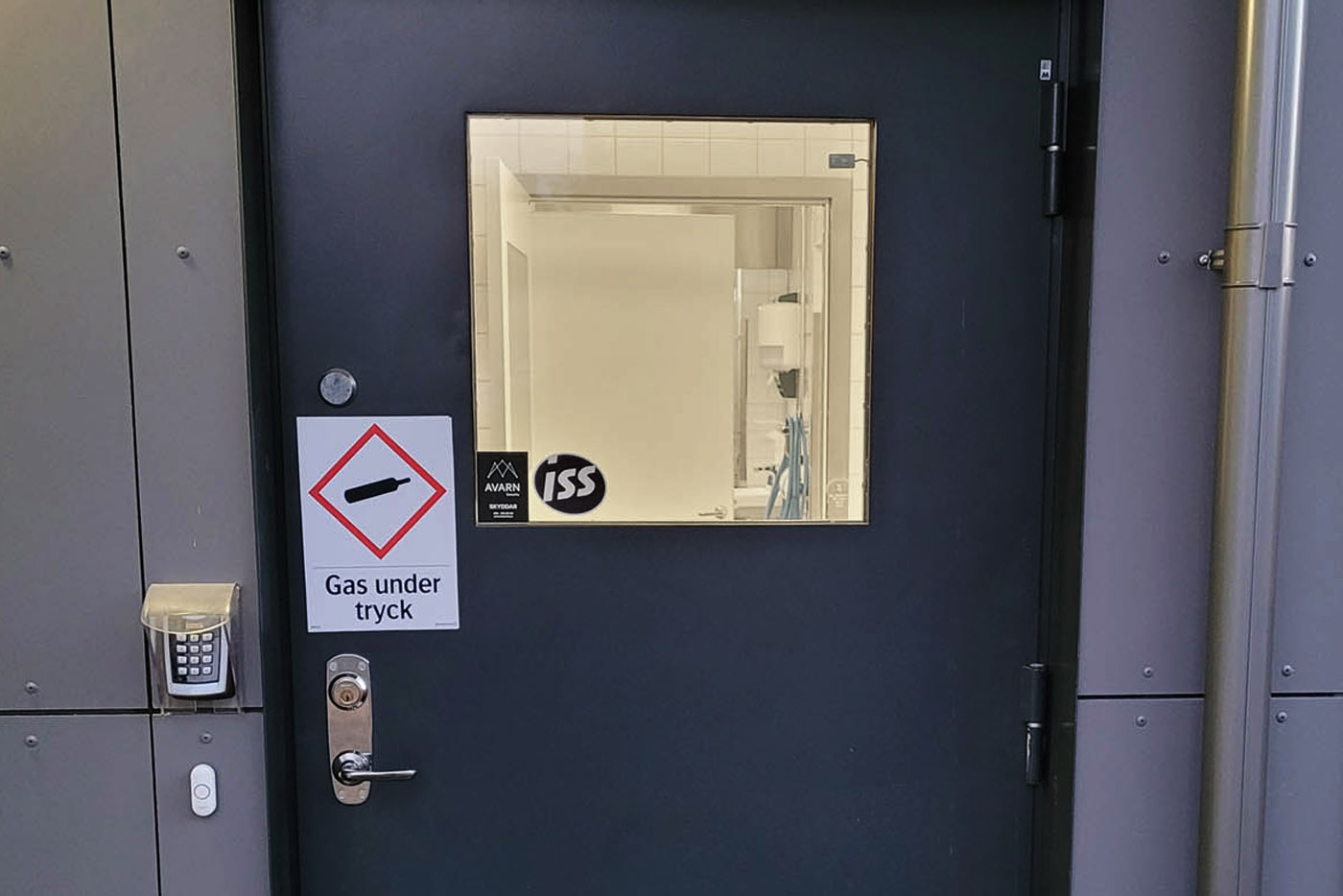 Glasurtag?
In some activities it is important to be able to see through the door to make a quick assessment of the situation, without having to open it. This can be the case for laboratories, operating theatres, courtrooms, cell doors and others. We can thus install a rectangular or circular glass door with tempered glass to create a view through.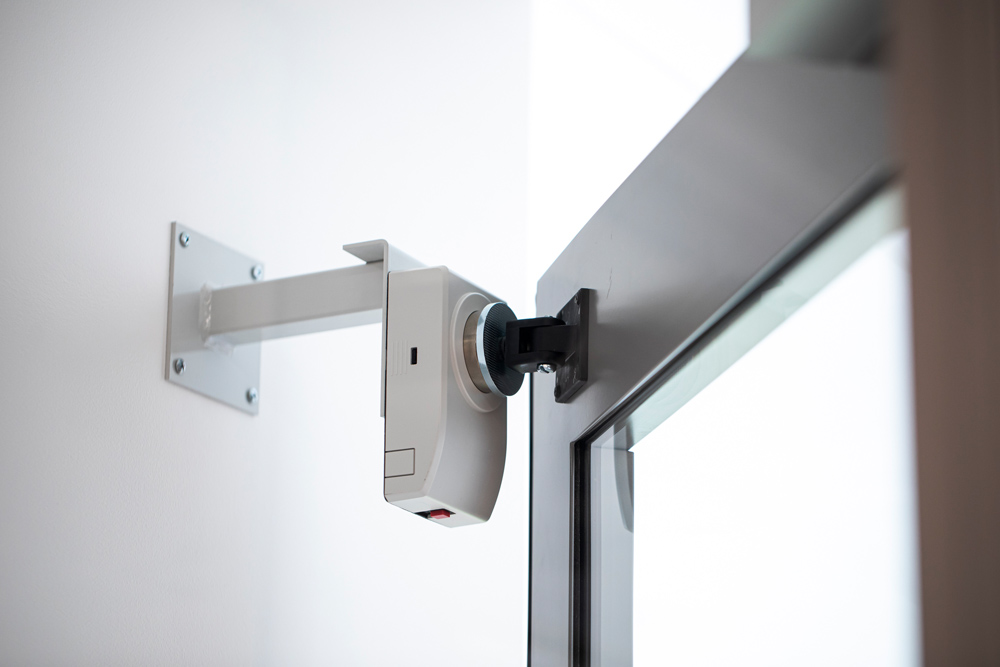 Setting magnet and door closer
Through our network of subcontractors, we are able to install high quality upstand magnets and door closers to complement the door. This is recommended for most businesses, as it increases mobility and makes the door easier to use. Without these features, the door can create unnecessary strain for staff who need to open the door several times a day, for example to transport materials or similar. With an overhead magnet, the door can be opened at times when there is frequent passage. The same applies to door openers and door closers that open the door electronically.
Level of sound insulation?
As standard in a security-rated door, the sound insulation is 38 dB. This is sufficient for most environments, such as residential buildings, shops, industrial premises and others. If higher sound insulation is required, this can of course be arranged. For example, in law enforcement, manufacturing or correctional facilities, higher sound insulation may be advantageous where greater privacy is required during conversations or where the door needs to protect the hearing from extremely loud volume.
In which industries are security doors used?
Security doors are used in all cases where there is a risk of burglary and where increased protection of property or persons is desired. Examples of industries that either require, or have a great need for, this are the following:
School
Military
Shop and premises
Residential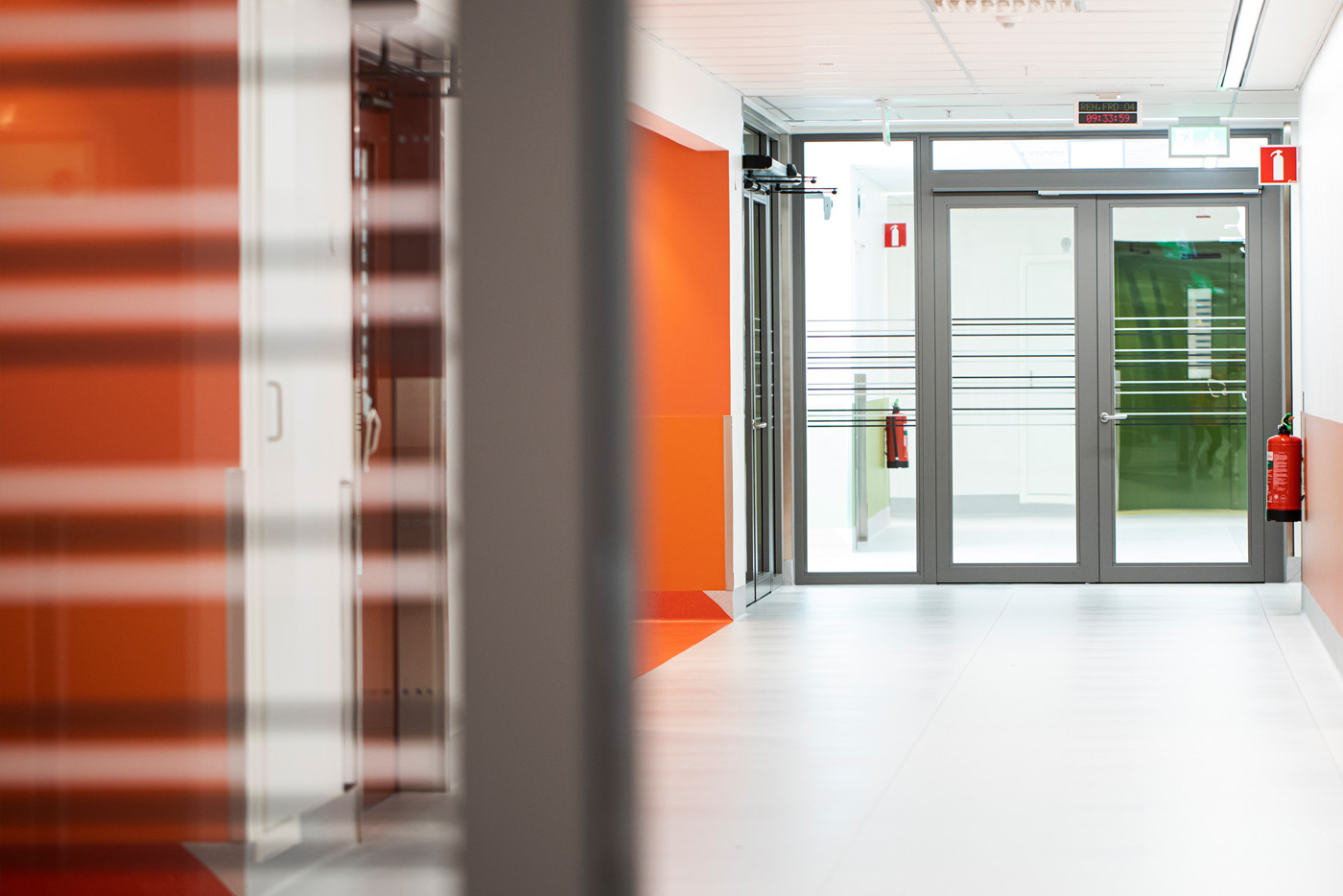 Which protection class should we choose?
It depends on how secure you want your door to be. The most common protection class is RC3, which resists most attacks and has a good combination of cost-effectiveness and protection. A security door should belong to a protection class, or RC, which stands for resistance class. There are classes RC1 to RC5, and the difference in the door concerns the choice of materials, door thickness, reinforcements and so on. An accredited testing body tests the door for a range of factors and measurements, and then classifies the door according to the Swedish standard for burglar resistance: SS-EN 1627. The door is then assigned a protection class between RC1-RC5. MaxiDoor tests its doors at RISE Research Institutes of Sweden AB. RISE is a wholly-owned Swedish government research institute that works with universities, industry and society for innovation development and sustainable growth. RISE is dedicated to industrial research and innovation, and performs testing and certification.
Recommendation on protection class
From our side, it is very important that we deliver a solution that works and does the job. In other words, in the event of a burglary or the like, we recommend a total solution that minimises both property damage and psychological harm. We usually assume that doors on the outside of the building should have the highest security rating, RC4 or RC5, and that internal doors should be lowered, as they are much less likely to be attacked. The classification is based on a number of factors, such as what is to be protected, the appearance of your building, and an overall view of the strengths and weaknesses of your building.
At MaxiDoor, we don't just want to deliver a quality door. We also look at how our doors can actually provide you with maximum protection based on a broad security perspective and a basic analysis of your building. When choosing a protection class, therefore, choose a higher protection class on doors that meet first attack and have a security expert inspect your building to find weaknesses and opportunities for better protection.
Safety classes in practice
The different security classes are based on the type of attack level to which the door is exposed. This is also how the door is tested. So to pass an RC4 rating, where attacks are made with heavy tools such as a drill and hacksaw, a much more robust door will be required. This can give you, the customer, a good guideline as to what type of door you need, based on your assessment of burglary risk and exposure. Here you will find information on security and the different security grades of our steel doors:
SS-EN 1627 class RC2
Resists attacks with simple tools, test time 3 min within a total of 15 min. Pressure against lock and corner is 6 kN and 1.5 kN respectively. Repels burglary attempts with small, simple hand tools. Attack time amounts to 3 min effective time, within a 15 min period.
SS-EN 1627 class RC3
Resists attacks with small tools, but also with crowbars. Test time 5 min within a total of 20 min. Pressure against lock and corner, 6 kN and 3 kN respectively. Resists break-in attempts by the "normal thief", equipped with crowbar.
SS-EN 1627 class RC4
Resists attack by heavy hand tools such as crowbars, axes, bolt cutters, hacksaws, plate cutters and electric drills. Test time 10 min within a total of 30 min. Pressure against lock and corner, 10 kN and 6 kN respectively. Approach time amounts to 15 min effective time.
SS-EN 1627 class RC5
Resists attack by hand and power tools, including angle grinders with 125 mm discs, tiger saws, drills with hard metal bits, etc. Attack time is 15 min effective time.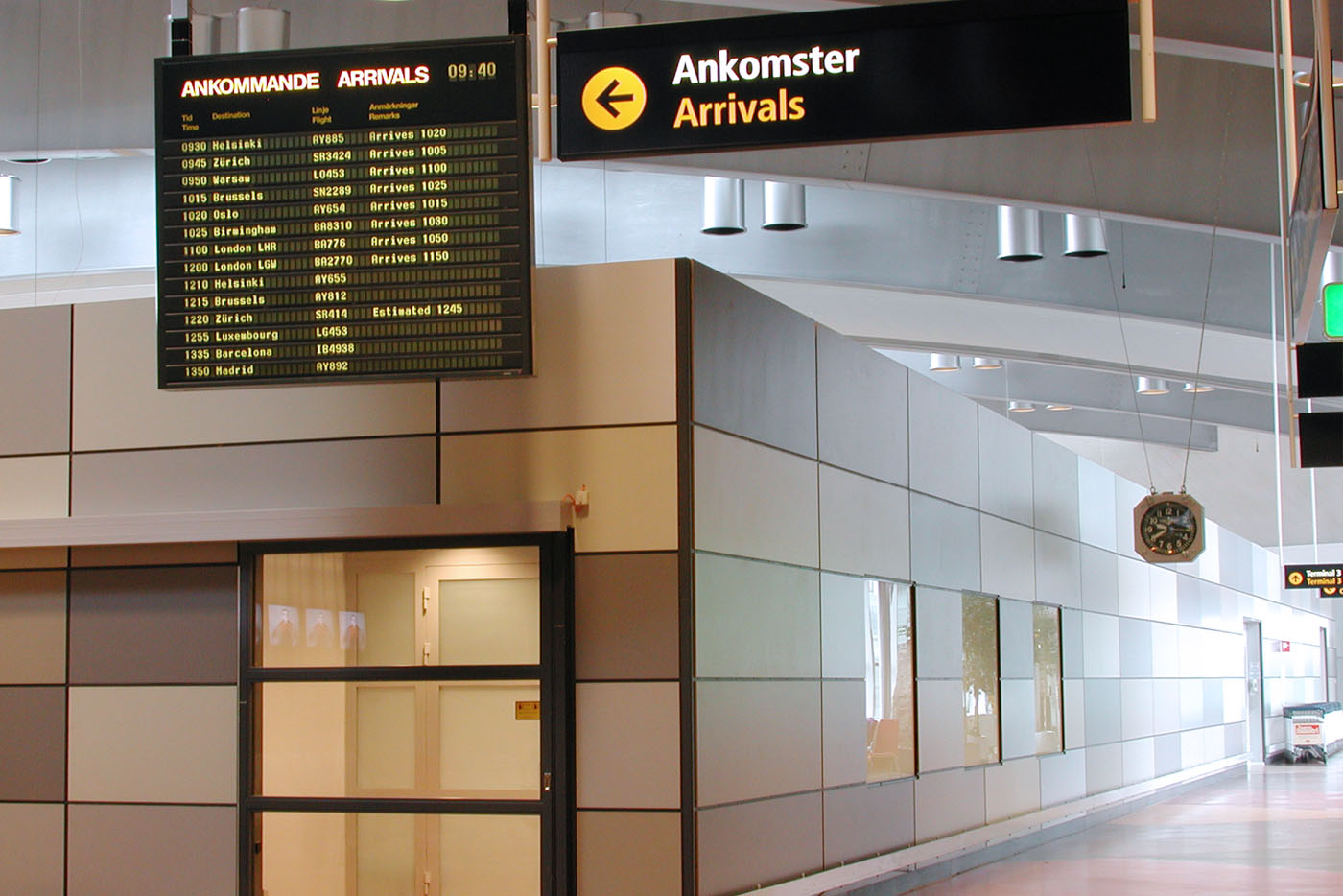 Bullet and explosion proof is not standard, but can be added
Ordinary security doors are tested as above only against burglary and the tools that a burglar usually has in his arsenal. Through MaxiDoor's security niche and work with Swedish security agencies, we can offer security doors with enhanced protection against bullets and explosions. For your door to be considered bulletproof, it should have the EN 1522 classification. An explosion-proof door should have the EN 13123-1 classification. These types of extra-protected doors are installed for activities in the military, prisons, chemical industry, power plants and other buildings related to national security. Due to confidentiality reasons, we cannot provide complete information on the function and characteristics of these protection classes. Please contact MaxiDoor if you would like more information about these products.
Safety doors shall be fire tested and smoke gas tight according to SS-EN 13501-2
- Fire-tested
Since 2016, fire tests must be carried out not only on fire doors but also on security doors according to European standards. Ensure that the door is delivered with type approval and a certificate of fire protection from an accredited testing facility.
- Smoky gas
A safety door must be approved for Sa (room-temperature gas) and S200 (hot gas). This means that the door resists hot and room-temperature toxic fire gas and smoke under different types of pressure. This is tested on both sides of the door. Double-check that your new security door is rated Sa and S200.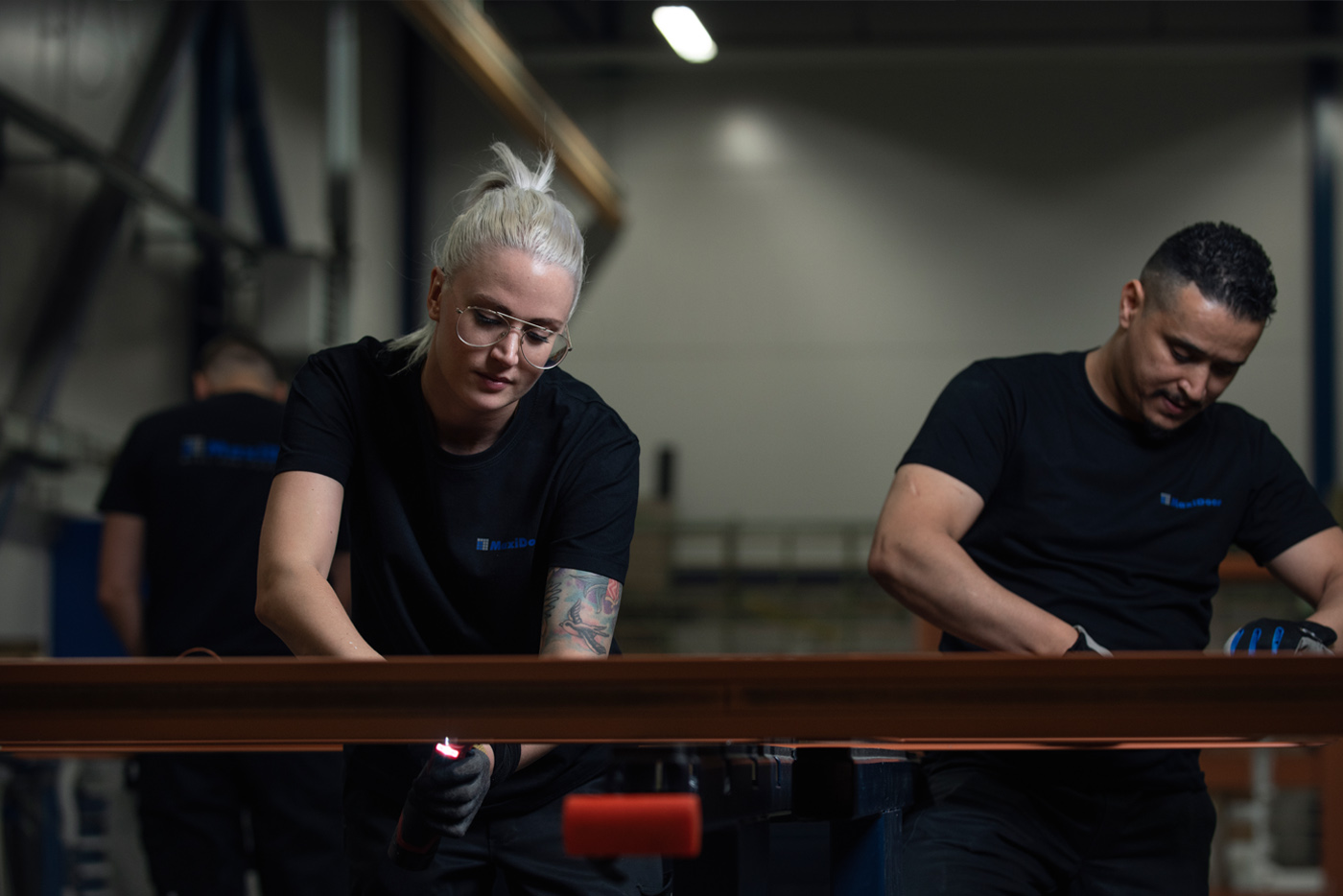 Buy Swedish made
In our experience, a Swedish-made and tested security door is in many cases a better choice than a door from abroad. Swedish safety requirements and tests are generally stricter and have less room for margin. Another difference worth noting is that Swedish security doors open outwards, which means that the outside is primarily what is tested. Abroad, this is not always the case, which may mean that a foreign-made door that opens inwards may have less protection. It can also be difficult to verify exactly how secure a foreign-made door is, where the manufacturer reinforced the door the most, and for what purpose. In the worst case, this can be discovered afterwards, when the break-in has already taken place. Our recommendation is to choose a Swedish-made door and increase the budget slightly, to get a really safe and robust security door.
Hire a company that can manufacture a door equipped for Swedish requirements and conditions. It is also important that the product is safely manufactured and that there are Swedish certificates to prove this. For a security door, the door leaf should be made with thick steel sheet in the door frame and with a reinforcing frame in the outer edges of the door. It is an advantage if the product is produced entirely in Sweden, so that any production or communication faults can be quickly detected and rectified. By designing and manufacturing in the same place, we can be quick to change over and minimise costs compared to external door production.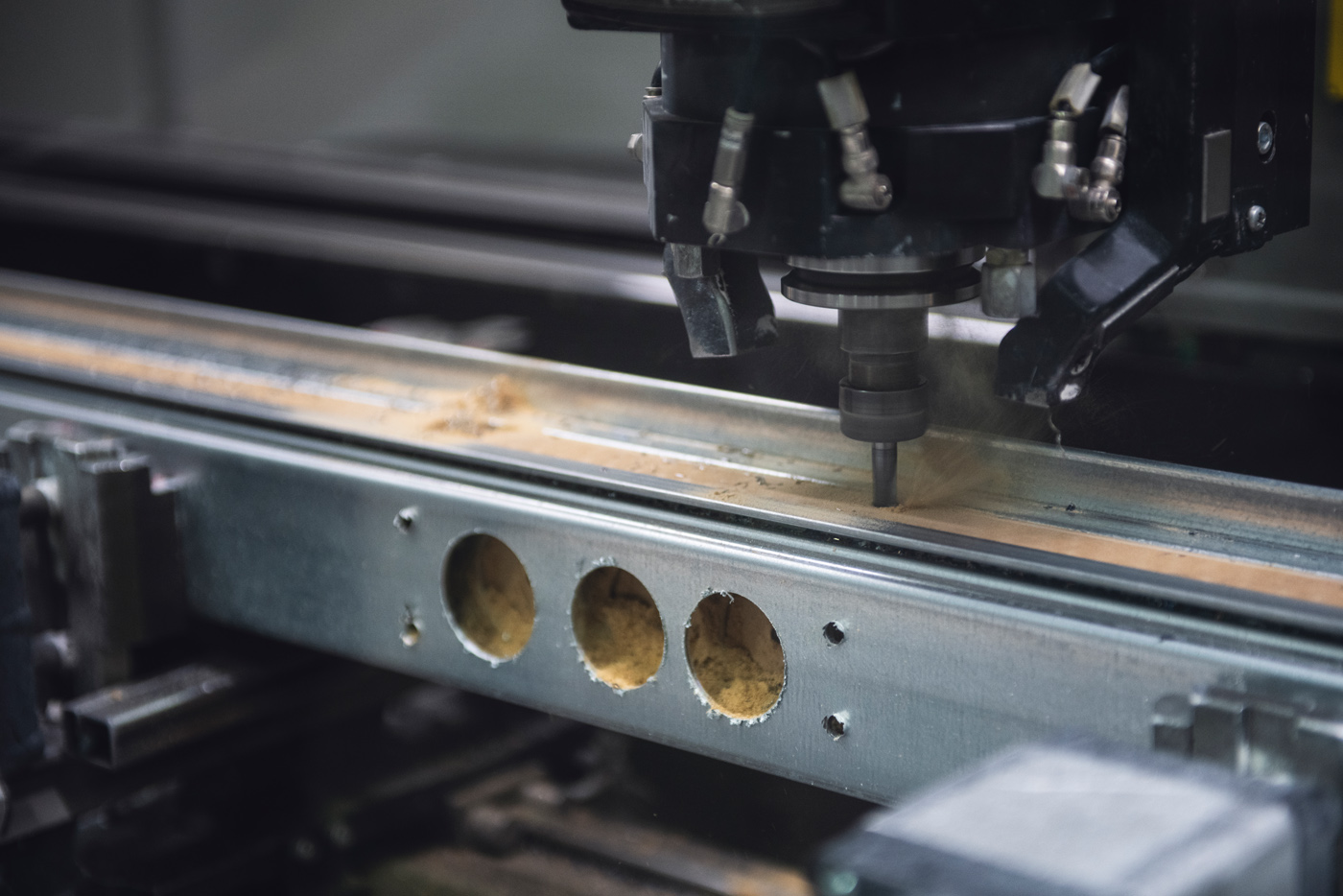 material
Make sure the security doors are made of stainless steel for maximum durability. A guideline is that the door leaf should be made of at least 2 mm thick steel, if the protection class increases, the thickness should also increase. We use Swedish steel as raw material.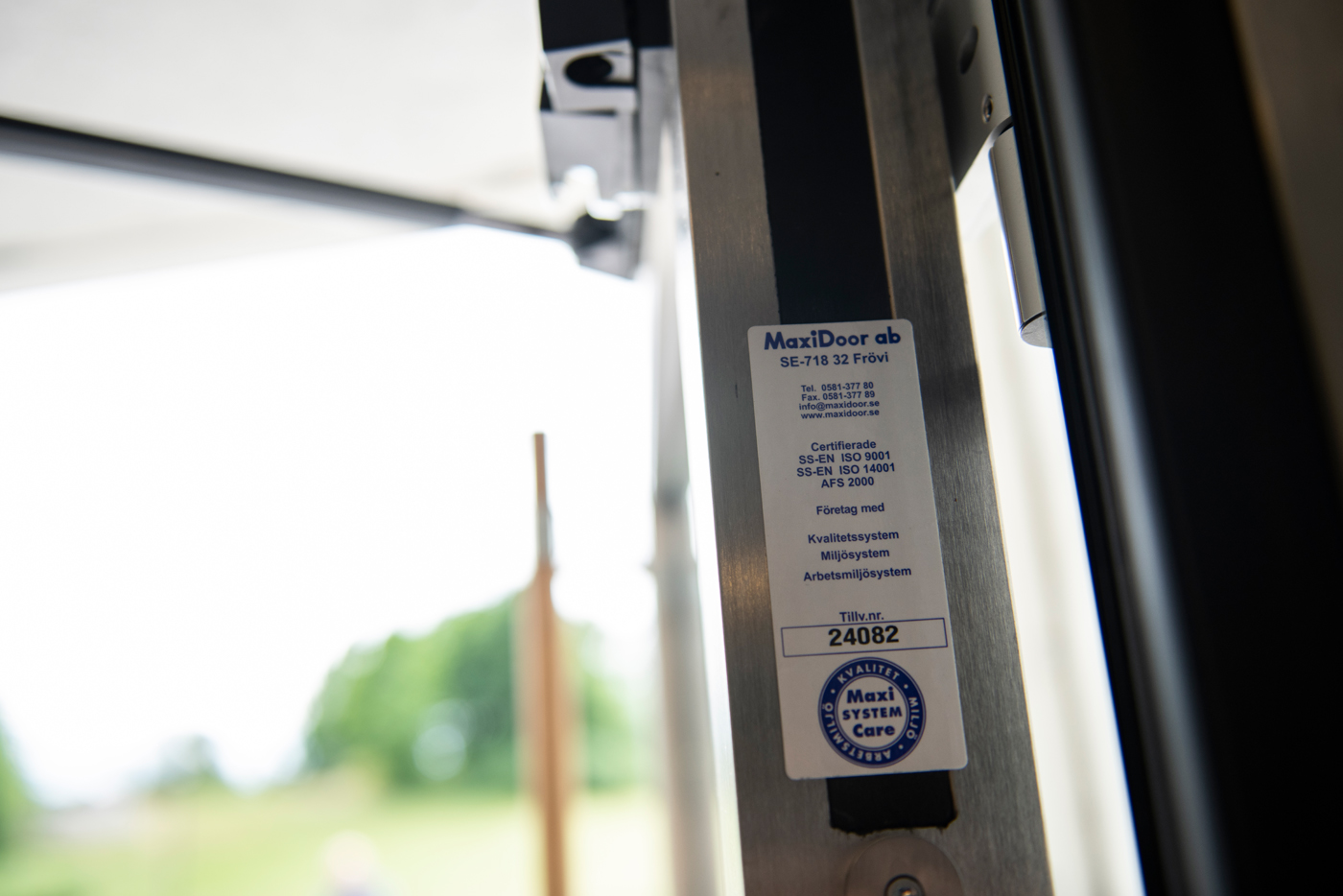 What guarantees should be included when purchasing a security door?
Make sure that there is a warranty covering any manufacturing and functional defects for at least 2 years after purchase. We stand for high quality and with our warranty we want to take responsibility for the high functionality of our product. MaxiDoor guarantees that the products are manufactured in accordance with the European safety regulations and quality standards that apply to our security doors.
MaxiDoor provides a 2-year warranty on delivered products. The warranty is valid from the date of the final inspection and covers manufacturing and material defects in the delivered product. The guarantee is subject to the door and door section being maintained and cared for in accordance with the enclosed instructions, operating and care instructions. Care and maintenance must be well documented door by door: what is carried out, when is it carried out and by whom.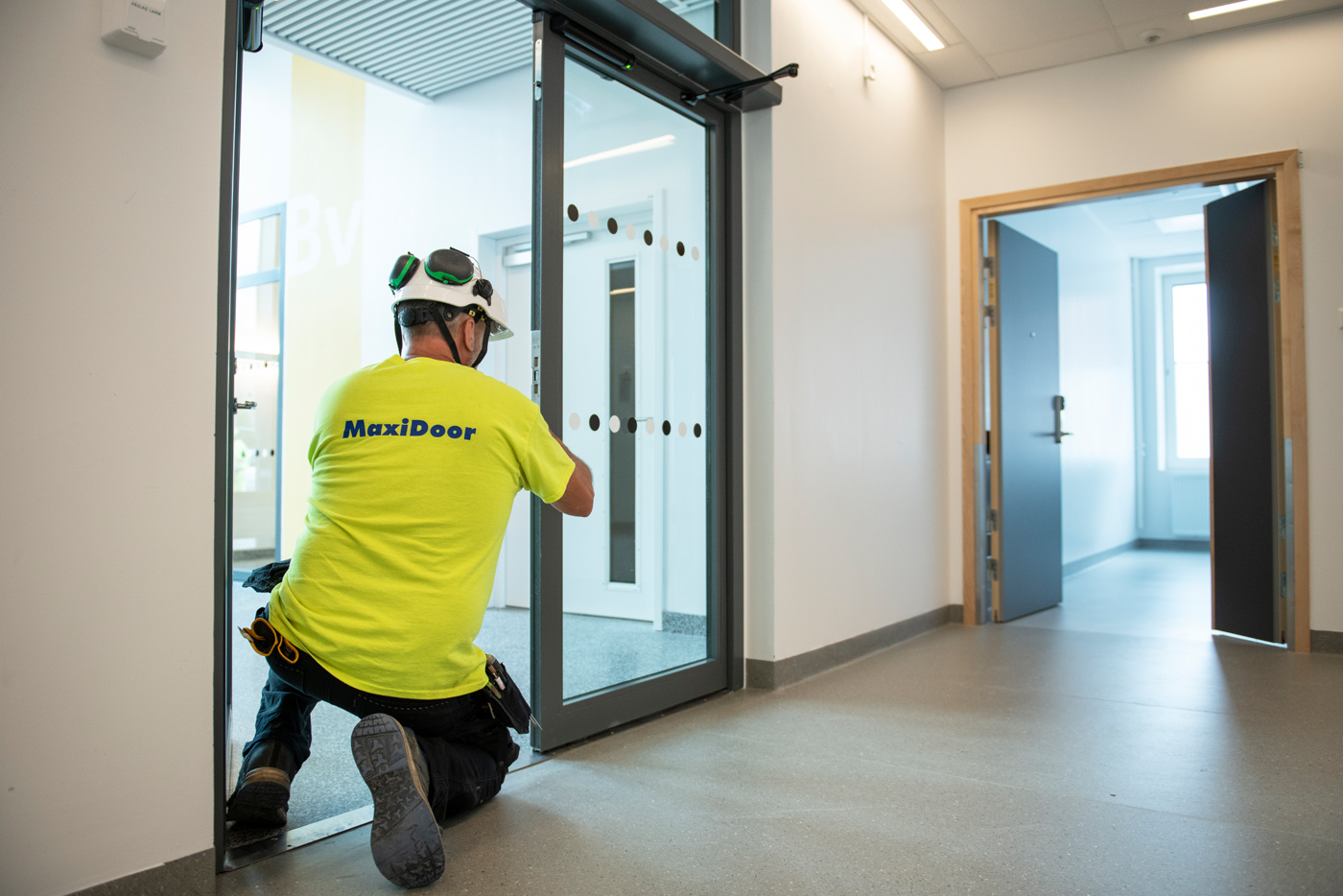 Install yourself or via professionals?
Of course, it is possible to install the door yourself, if the person in question has the necessary experience. What is important to bear in mind is that the door can lose much of its protection if the wall, frame and threshold are not correctly installed. The door is only as secure as the passage in which it is installed. Hiring a professional for installation leaves no opportunity for easier burglary for the thief and ensures that the surroundings are as secure as the door. In most cases, you would be wise to include installation and any associated contract work in the price, for maximum security.
Let the door installer recommend the choice of lock
Our recommendation is that the company selling or installing the door is also commissioned to demonstrate which locks are most suitable for your new doors, and that this company is also responsible for installation. The different types of locks commonly used are either electronic locks or the more common option of multi-point locks. At MaxiDoor we work with the major hardware suppliers such as Assa, Dorma, Geze and others. In order for your door to be classed as an "approved security door" by insurance companies, for example, the door must have an approved locking device. This means that the lock itself must have a security rating of at least RC3. Today, it is also standard to install a lock cylinder on both sides of the door for added protection. This means that the door is not only locked from the outside, but also from the inside, making it even more difficult for the thief. Choosing to install the lock through a certified locksmith or through the door company will give you benefits that can be crucial to long-term functionality and security. The lock is therefore tested for the purpose and has the same protection class as the door, and it is also easy for your locksmith to service.
Draw up a service agreement
The company that installed the doors should include in the offer prices and agreements for ongoing maintenance of the doors, for regular inspection and service. For example, if something needs to be repaired, or if the door has been damaged in an attempted burglary, it needs to be replaced quickly. A door company can also provide valuable analysis of a possible burglary attempt. Should the new door be reinforced in any way? By using the same company for both production and ongoing maintenance, insight into the business is created and ongoing security improvements can be implemented. In addition, the company that performed the installation and manufactured the product will often service the door more efficiently than another company. The door company also has the necessary knowledge of all the door's components, good contact with lock and alarm subcontractors, and spare parts are almost always in stock for immediate installation.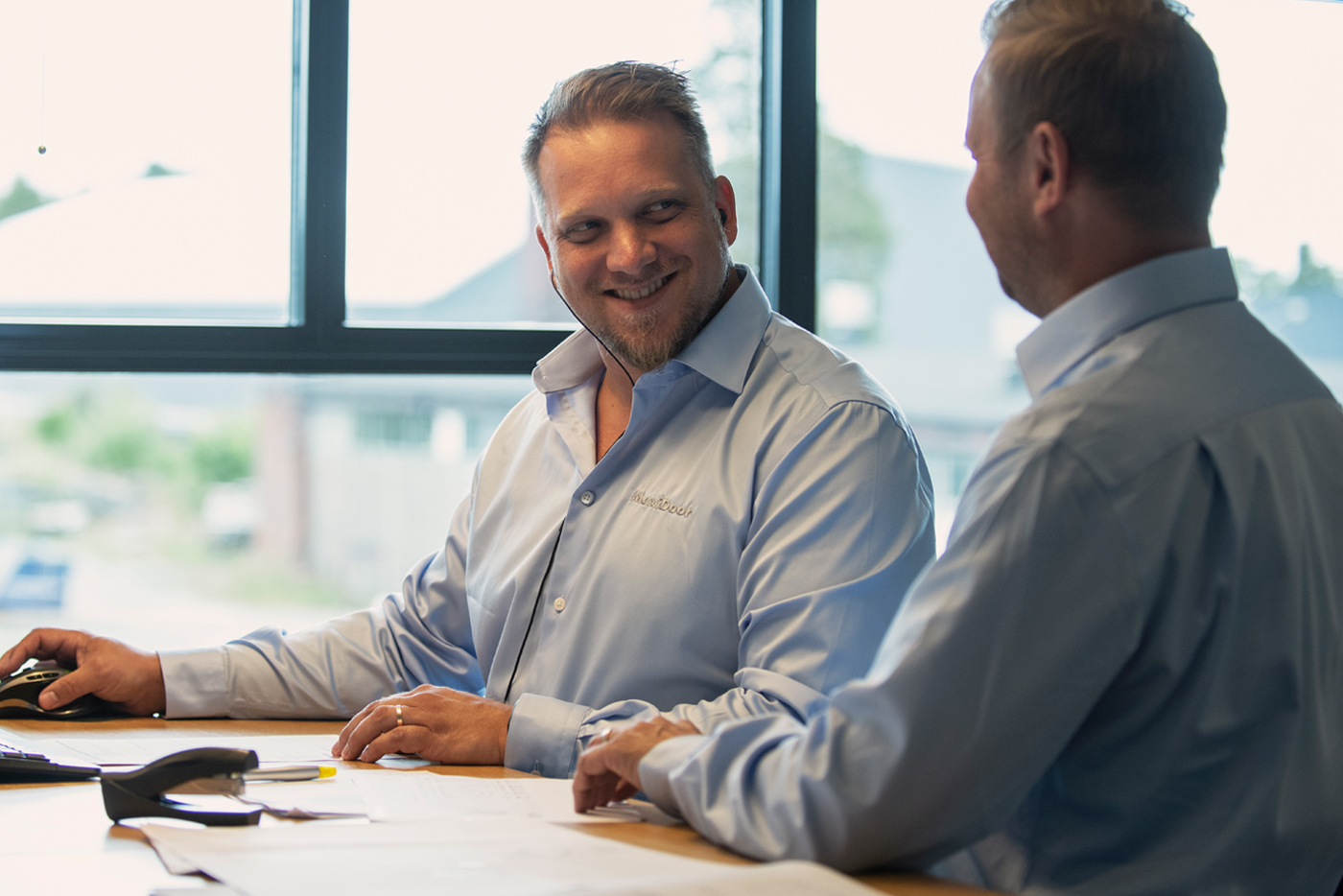 Want to avoid all the hassle of buying? Then contact us at MaxiDoor and we will guide you
Our experts don't need much information. By asking you the right questions, they can find out what suits you best and suggest different solutions. Our total solution saves you time and energy, and you can be sure that the doors will deliver high security over time.